For many people the best way to learn is in a live interactive class with an engaging and entertaining teacher, but it doesn't suit everyone. We can now offer you an excellent alternative…
Choose any, or all of three, 10-week Spanish with Victoria courses to study in your own time.
Convenience. We have busy lives and can't always fit everything in, so why not save on the travelling time to get to class by studying in the convenience of our own home. If you don't live near the west of Sheffield, then this could be a big factor.
Flexibility. We learn at different rates and have capacity for different periods of study time. A full hour class that goes at the pace of the average person in the class may not be right for all students. With self-study, you can pause the class and come back to it when you're fresh. You can even slow down the class video if you're finding it too fast, or speed it up for an extra challenge.
Study all year. Spanish with Victoria live classes aim to be accessible to a wide group of people by concentrating lessons during British school term-time and avoiding holiday periods. If you're not constrained by these then self-study can enable you to study all year round, and to start the course at a time to suit you, not restricted to September, January and April starts.
Lower cost. Self-study benefits from lower prices. We admit there is a premium for many people from attending real live classes if they are are convenient to you, and there's a price premium to match that experience. It follows that you should benefit from lower prices from studying at home. But our aim to make this experience as true as possible to the experience of being in a live class. See below for everything you will get…
Lots of options to suit your learning style and lifestyle
Each term comprises 10 lessons of one hour in duration. For each class you will have each of the following: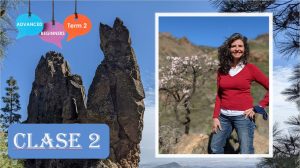 The lesson notes in PDF format. Easy to download on any device, and to print if that's helpful to you. Use these notes on their own, or in combination with the video, audio, and/or white board vocabulary.
Video. This is a full recording of a live lesson. Ideal for interacting and practicing speaking as if you were in the class. You can speed up or slow down the playback if the pace is not quite right for you. Add subtitles if they're helpful for you. Stop the video and come back to it later if you need a break. Use the video in combination with the class notes and the copy of the whiteboard (see below).
Here's a great example with a class of beginners after just 20 lessons…
Audio. Sometimes you may want to learn when you're on the move (for example walking or driving), or late at night and you don't want to look at a screen. The audio of the class is ideal for this. It's also a much smaller download, again good if relying on data on your phone. It's also a stronger test of your listening comprehension as there's no assistance from lip reading or the sign/body language that Victoria often uses, so maybe give the audio a try after using the video and other materials.
Vocabulary. New vocabulary that is introduced in each lesson is written on the white board. From here you can make your own lists of words that are new to you if you find lists helpful!
Example… (click image to enlarge)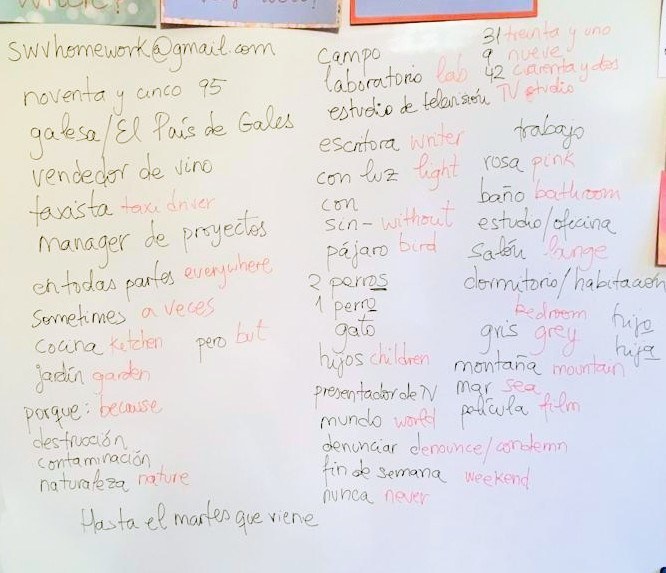 HOMEWORK (Deberes)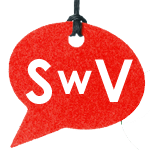 HOMEWORK
Sometimes you'll find some optional homework at the bottom of the lesson page. Or it may be included in the PowerPoint class notes.
Listening exercise. Sometimes there are extra chances to practice your listening skills with material that there wasn't time for in the lesson.
Example listening exercise from an early class…