INTERMEDIATE COURSE
SUITABLE FOR INTERMEDIATE & ADVANCED STUDENTS
MAKING SPANISH PART OF YOUR LIFESTYLE
CURSO DE NIVEL INTERMEDIO
PROGRESS BEYOND INTERMEDIATE WITH HISPANIC CULTURE, NEWS AND FILMS
Register now for a 10 week course for intermediate and advanced-level students on Thursdays, with recorded lessons to reinforce your practice, or if you need to miss a session.
My Spanish Intermediate Course is perfect to support your Spanish language use.
Regular use of the language in real situations leads to fluency, so join us every Thursday to boost your confidence in speaking fluent Spanish.
The CURSO DE NIVEL INTERMEDIO is aimed specifically at Levels B1 and B2.
Please contact me if you are not sure if it is right for you, and we can have a chat to check your level.
Our lessons will:
be wide and varied covering aspects of Hispanic culture and news, films, and tandems with Hispanic people;
include a wide range of fun, interesting activities completely focussed on communication;
include grammar and vocabulary;
include chance for presentations;
have easy online access to all the required materials (on a dedicated member section of this website);
No Course books or home-printing needed.
Online group lessons take place over 3 ten week terms. Join at any time, subject your level.
Groups sessions are on Thursdays at 19:30-20:30 GMT/BST. Just £150 per ten week term. Miss a class? Watch the recorded lesson so you won't fall behind.
1-2-1 private coaching option also available online or face to face in Sheffield, UK, £400 per ten week block of lessons.
Sign up now for the Winter 2022 term beginning on 6th January for ten weeks.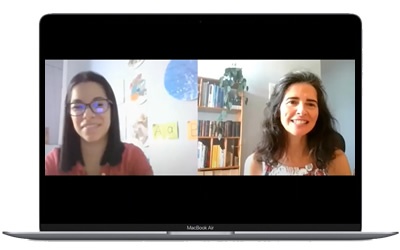 CURSO DE NIVEL INTERMEDIO reviews
Here are some of the nice things students have said about the intermediate level course.
"When I started my Spanish studies, my ambition was to speak in conversation. Spanish with Victoria is my opportunity to do it (despite my mistakes!). See you next week!"
"It is quite difficult to find language classes beyond beginners so the services Victoria provides are perfect for anyone wanting to move on in their Spanish language journey. Highly recommended."