¡YA HABLO ESPAÑOL!
SUITABLE FOR INTERMEDIATE STUDENTS
REBOOT YOUR SPANISH PRACTICE
COURSE FEES
£150 / 8 weeks
+ 2 bonus sessions
ORAL SPANISH LINGUISTIC IMMERSION FROM HOME
Register now for an intensive 8 week speaking course for intermediate-level students eager for an immediate result on speaking confidence and fluency. Daily guided self study throughout each week leading to a 60 minute group class each week for 8 weeks. Only £150. Your money back after the first week if you're not happy and have fully completed all the tasks and group session.
But don't take my word for it…
"I simply cannot recommend Victoria more! Having not spoken Spanish for a long time, I felt very nervous about my first class and interaction with Victoria. I really had nothing to worry about, she put me at ease right away. Victoria made me feel so welcome, relaxed and comfortable in each class, she is very warm, kind, patient and incredibly supportive.
I have loved the Ya Hablo Espanol course and I will really miss the weekly classes. I am currently writing this from Spain where I have met with my Spanish friends who have even commented on how well my Spanish is coming along, that is definitely down to this course and all the input you receive from Victoria.
If you are considering this course, my advice would be just to go for it! You will gain so much within such a short time from this valuable experience. Victoria, thank you again, you are the best Spanish teacher!"
ARE YOU?:
Struggling to speak two sentences in a row (despite knowing a good level of Spanish)
Scared of speaking
Lacking confidence and fluency
Good at learning grammar and vocabulary but don't find the chance to practice
Impatient to see results
Frustrated after trying other methods and courses
Let's remove all the roadblocks that might have hindered your progress in just 8 weeks!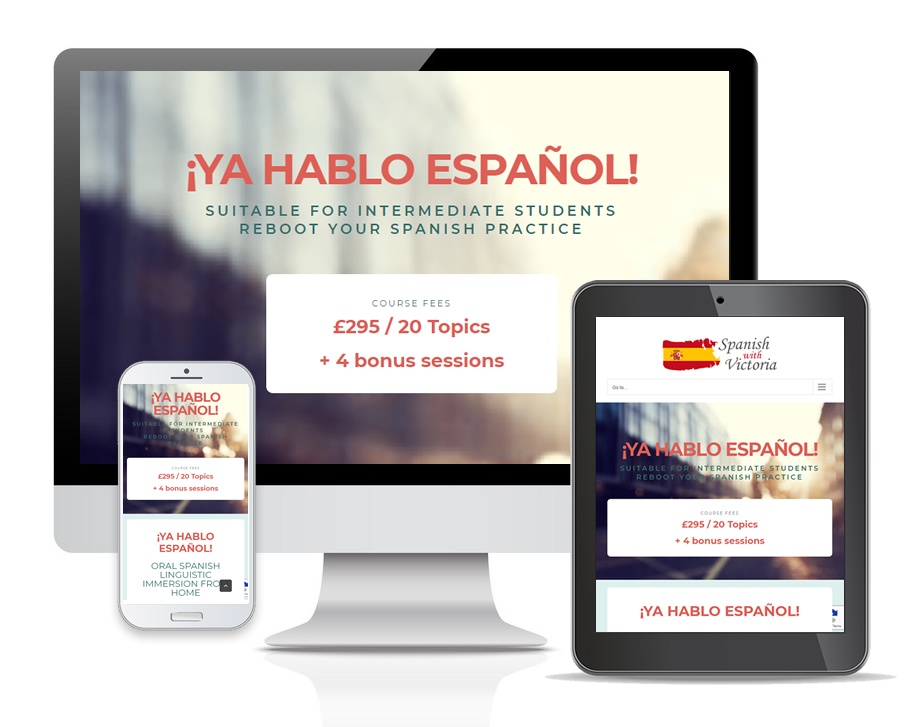 HOW?:
We only keep a language by using it.
Starting from your present intermediate Spanish level, it will be very easy to give a big boost to your command.
Dealing with everyday life topics that you already know (holidays, travelling, hobbies, work…) will put you at ease to start speaking.
Interacting with your peers enriches your command.
With simple practice every day you will develop or rebuild your fluency and confidence.
WHAT TO EXPECT:
60-75 minute conversation class each week for 8 weeks:
10:0am UTC.
All the material needed for the conversations.
20 topics.
For each topic: Comprehensive input (oral and written texts); videos, Questions; Useful expressions; vocabulary in context; Linking words.
For each topic: a video with the teacher's answers to the questions and a transcript of the video.
Feedback from lessons.
Access to interviews, videos and discussion in a dedicated online forum.
Group cooperation and support with other students, via Whatsapp Group.
BONUS:
1) Two free sessions on the Intermediate Course after completion of the 8 weeks.
2) Bonus videos with grammar explanations, vocabulary and cultural references.
3) Dedicated membership website giving access to all course material during the course and afterwards.
IT'S ONLY 8 WEEKS AND IT WILL BE LIFE CHANGING!
What's required of me?
Intermediate level (at least) of Spanish (contact me if you're not sure).
If you miss a group session I'll explain how to catch up.
Three hours self-study per week preparation for the group session.
Commitment to communicate in Spanish every day.
Internet connection and familiarity with Zoom video meetings (ask for help if needed).
COST: £150
(Read about my fair pricing policy)
Student comments
"I'm looking forward to next week!"
"The videos are a great help"
"This course is intensive and I can see the results already"
"Este grupo es genial y muy útil"
"Grupo en el que los alumnos se pasan ideas, sugerencias, lecturas, películas…".
"Hay mucha cooperación entre ellos y ellas."
"Muchas gracias por la gran experiencia de esta noche".
"Ahora estoy muy motivada para seguir practicando mi español".
"Siempre estoy muy cansado porque trabajo mucho, pero me ha encantado la sesión y estoy deseando que llegue la próxima".
FREQUENTLY ASKED QUESTIONS
Why will this work for me? There's lots of methods out there!
Sp w1th Victoria
2021-07-03T19:52:11+01:00
My methodology is based on engaging, real life topics which encourage students to speak and express themselves.
Kindness, care, acceptance and respect are essential, as the student's comfortability will allow them to feel safe and relaxed to speak.
Communicative approach is the main aim, as I understand a language as a means of communication, connection, link with another culture. Obviously, perfection will be happening as we communicate regularly and in a determined and enthusiastic way.
My sources for discussions are varied and so the pair work and group activities. Thus we avoid boredom, apathy and monotony.
The role of the student is always active. Students spend most of the time interacting, talking, discussing and commenting topics.
Students have access to feedback constantly.
Sense of humour is crucial to learn. Our brain relaxes, opens up and absorbs naturally the language. Moreover, it brings an atmosphere of trust and peacefulness.